William Rau Restoration
is a firm devoted exclusively to automotive woodwork,
both old and new. For your classic Rolls-Royce motor car
we offer everything necessary for a complete wood restoration.
Visit our Restoration section to see numerous examples of
award winning cars including a Talbot Lagot, winner of
Best of Show at the Pebble Beach Concours 1997.
Our extensive experience puts us in a unique position
to perform complex jobs with superb results.
Witness the custom left-hand drive dashes we make for
Silver Clouds and coachbuilt cars. We've even changed the
veneer in new cars. A case in point is a Springfield Edition Silver Spur,
in which we changed the veneer from madrone burl to walnut burl.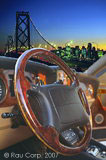 Our accessories are increasingly in demand among dealers and private
individuals alike. We offer a unique combination of design skills, an intimate
knowledge of woods and veneers, and show-quality finishing.
The site is photographically rich, with many examples of our
work, but of particular interest to Rolls-Royce owners are:
Steering Wheels - handcrafted and elegantly designed.
Rolls-Royce - air bag
Rolls-Royce - pre-air bag
Corniche - pre-air bag
Silver Cloud

Door Panels - in walnut burl and available for all models from 1981
up to and including the new Silver Seraph.
Our wood restoration has helped classics win a
1st at the National Rolls-Royce meet, and
Best of Show at the Pebble Beach Concours.
We bring this same expertise to our elite line
of wood accessories and custom projects.